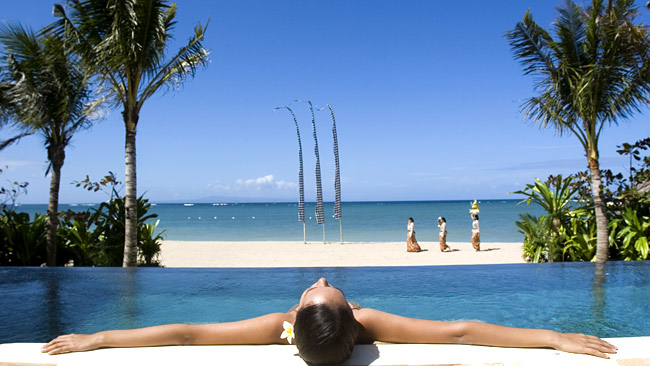 Bali is the main tourism hub of Indonesia, nearly eight million tourists, both domestic and international, visit Bali every year for the expansive natural beauty and captivating culture of the Balinese people. 80% of the province's income is derived from the massive tourism industry developed over the past 30 years. As a result of this, the feeling in the air is that of an everlasting summer vacation that never loses its magic.
The fauna of Bali is largely Asian in nature with a bit of influence from Australian plant-life. One of the few locations in the world with the proper environment to grow the fickle coffee plant, one would be remiss to leave without sampling some of the freshest and most decadent coffees in the world. The beaches are a pristine white and the oceans are a constantly cascading pool of green and blue hues. The sea is so clear that the colorful corals and hundreds of bright tropical fish are constantly in view from the sand. Snorkeling in the warm tropical waters is such a magnificent experience that it should be a mandatory part of any vacationers' agenda. On the flipside, sunbathing on a beach voted to be the world's best in 2010 is just as satisfying in its own way, especially with your drink of choice in hand.
Even with an unparalleled natural beauty, the scenery isn't the most captivating part of a vacation to Bali anymore. It is the culture that has flourished and grown so exponentially because of the freedom that tourism provides to the people. Performing arts have exploded into one of the most diverse and innovative in the world with thousands of paid performances at public and private shows.  Festivals and parades are held frequently by the native population and tourists are encouraged to join in the celebrations, bringing a warm feeling of welcome that few destinations have managed in the world. Five star restaurants featuring the pinnacle of cuisine from across the globe can be found within walking distance anywhere on the island.
The most recent addition from booming tourism is the development of private villa rentals on the mountainside and beachfront. Commanding a panoramic view of the cities and oceans of Bali, a gentle and warm ocean breeze occasionally washing over, and the intimacy of a private dwelling combine into a scene that most people can only dream of.
Capturing the Essence of Bali