A cruise is a fantastic family holiday, with everything from all-inclusive food to swimming pools, all kinds of entertainment options, exercise and offshore excursions, there is literally something for everyone. And many cruises these days feature special activities and areas for kids of all ages. Whether you choose to cruise south to the sunny Caribbean or cruise from Southampton with MSC, the kids will love the chance to hit the seas for an unforgettable adventure. Here are 5 cruises that everyone in the family will love:
Norwegian Breakaway This massive, 4,000 passenger ship doesn't make its debut until May 2013, but it's going to be a hit with the older kid crowd. A massive water park tops Deck 17, with water slides reaching five stories high. There's a special water park area for the little ones as well, with favorite characters like Dora the Explorer and SpongeBob in the water play area.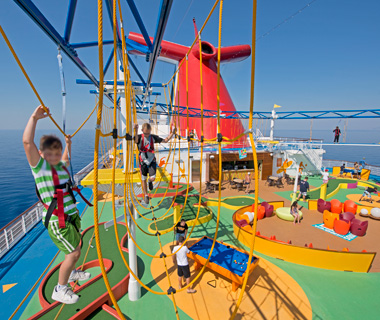 Carnival Breeze Another cruise ship with a water park serves up family-centered fun, with all kinds of slides and water attractions for all ages. There's also a lively family game show that combines classic games like Yahtzee and Sorry in larger-than-life versions. Don't miss the 3-D theater for a mind-blowing experience.
Royal Caribbean's Oasis of the Seas Not only does Royal Caribbean boast the world's largest cruise ships, they also have some of the most kid-friendly programs so the whole family can have a great time. Some kid-friendly attractions include merry-go-rounds, ice skating rinks and even ziplines. They've recently signed a deal with DreamWorks, so you'll see you children's favorite characters from Shrek, Kung Fu Panda and other films interacting with kids onboard.
Princess Alaska Cruises A Junior Ranger program on the Princess line going to Alaska teaches kids about native wildlife and glaciers in a super fun context. They earn a badge and certificate after completing the program that's run in conjunction with the National Park Service. There are also youth-focused cooking and yoga classes to get the young ones interested in health and fitness!
Queen Mary 2 This ship gives kids a taste of traditional British hospitality, employing real British nannies for young guests and organizing fancy balls at night! During the day, kids can enjoy high tea with their families. There's also an awesome planetarium on board where the kids can learn about the night sky.
Top 5 Cruises for Families with Kids