Barcelona is a favorite destination for many travelers to Spain. The Catalan culture here is so vibrant, and the beaches, shopping, culture and nightlife scene make this city a top pick for anyone seeking an incredible holiday. There are lots of low cost flights to Barcelona, so there's no reason not to treat yourself to a fun weekend away here! And there's great news for budget travelers: Barcelona has plenty of things to do that don't cost much at all. So you can enjoy this city to the fullest while saving some cash!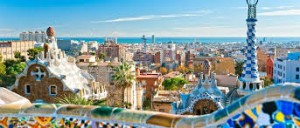 Relax on the sunny beaches
Whether you're here to party, shop, explore or relax, you've got to make the beaches of Barcelona a part of your itinerary. The coastline can be pretty packed in the summer months, so try visiting off-season if you want a less touristy-beach experience. Or you can check out one of the city beaches like Barceloneta which tends to be less crowded.
Sunday museums
On Sundays, many museums throughout Barcelona offer free admission, so it's the perfect time to explore the cultural and artistic elements of the city. The Picasso Museum is a great museum that's free on Sunday, and especially appropriate since Barcelona is the artist's birthplace. Also check out the National Museum of Art of Catalonia for free Sunday admission.
Free film screenings
Since Barcelona has such nice weather year-round, you can often find free film screenings throughout the city. The Cinema Lliure shows independent films for free at San Sebastia beach on both Thursday and Sunday evenings. And during July, head to the gardens at the University of Barcelona for some free local music performances in the evenings.
Unwind in a park
When visiting a city as large and densely packed as Barcelona, it's nice to have the option to go relax and rejuvenate in a green space for awhile. While Barcelona doesn't have many parks, the Parc de la Ciutadella is more than adequate for your unwinding time! Here you'll find a lake, a zoo and plenty of gorgeous green space for a picnic or just relaxing under the trees.
Explore the markets
You don't need to spend any money when you explore the many outdoor markets of Barcelona- but you might be tempted to! Here, you'll find lots of local Catalan food specialties to sample, as well as fresh produce and handcrafts. The markets are also a great place to people watch and just experience the bustling local culture. La Bouqueria is the largest outdoor market in Barcelona, and it's also one of the largest markets in Europe! Santa Caterina is also a great one to visit and a bit less crowded, with great restaurants to sit down and enjoy a bite.
Best Things to Do in Barcelona on a Budget