Europe has some of the world's finest coastline – and the best way to see it is from the deck of a cruise ship or yacht. Here are five stretches of coastline you won't want to miss.
Lycian Coast, Turkey
The Lycian coastline is one of the most spectacular cruising grounds in the eastern Mediterranean, with legendary turquoise waters and pine-forested islands sprinkled with secret coves and bays. If you're up for chartering a yacht, it's well regarded by sailors as a fun place to sail, with easy line-of-sight navigation.
Dalmatian Coast, Croatia
European cruises, many of which are available online, don't get much better than Croatia's Dalmatian Islands, which are among the most famous islands in the Mediterranean. Wild and rugged, many are protected as national parks, and with few – if any – inhabitants, they are a great place to indulge in true peace and quiet.
Epidavros, Greece
Packed with sun-soaked islands and bursting to the brim with ancient sites on its mainland, Greece is a wonderful place to take a cruise holiday. Epidavros, based in the stunning sailing grounds of Greece's Saronic Gulf, is an ideal place to explore the history and mythology of Greece. And should you want to wear a captain's hat and sail yourself rather than take an organised cruise, you'll find some good sailing schools in Vounaki.
Bay of Naples, Italy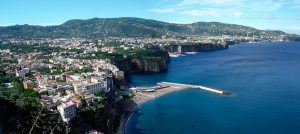 The fascinating Phlegraean and Pontine islands and the Amalfi Coast on the Sorrento Peninsula are headline sights on a cruise around Italy's stunning Bay of Naples. If you have a little more time on your hands, a longer cruise can take you south to explore the wonderful Aeolian Islands, which lie to the north of Sicily.
French Riviera, France
Arguably Europe's most famous sailing destination, the French Riviera stretches along France's legendary Cote d'Azur coastline. The high society towns of Cannes, Saint Tropez and Monaco are dotted along the coastline, and are great spots to hop off and play among the rich and famous before indulging­­ in some classic French cuisine.
Five of the best cruise destinations in Europe