Dublin city provides one of the best weekend getaways that tourists from Europe can avail of.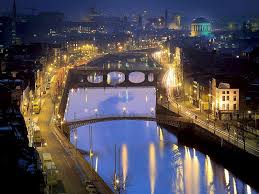 It has a lot to offer both the backpacker all the way to the full blown holiday maker. It's got something for everything no matter what age or culture they're from. And this is what makes the city of Dublin so unique.
So what can you do in Dublin?
For those of you that just love to shop, then you're going to be in for a treat in Dublin. It has loads of shops, especially around the Dawson and Grafton street areas. You'll find such shops like Dublina, Weirs, Arnotts and the famous Bewleys cafe.
Fancy a good night out on the town, Irish style? No problem, just head to Temple bar and you'll experience a traditional Irish night out that will leave you spinning! Temple bar is famous for it's party atmosphere and is a huge haunt for travellers to visit and enjoy a pint or two of the best Guinness in the world. If you don't like big noise crowds, and would prefer a more relaxed drink, then you could always head elsewhere in the city.
Why don't you reward yourself when you come to the city and stay at the Burlington Hotel in Dublin? You will find this central hotel to be the best location for your stay and you'll be right in the middle of things and yet have all the peace you could want.
Walk along the statue trail and come across some of the famous faces of Ireland. There are statues pebble dashed all over the city and they provide some ample photo opportunities.
If you happen to be in the city on the 17th March, then you'll be in for a memorable treat, as that's when the Saint Patricks Day parade is held. You will witness street performers, artists, and different activities that the whole family can enjoy. Usually the party atmosphere will last all week or weekend – depending on what day it falls on.
Find out where Guinness comes from by visiting the Guinness factory. This is one of Dublins most popular attractions, so why not spend some time there and see for yourselves if it lives up to the hype!
Dublin offers many different things to do and see, and you'll have to spend at least a week to ten days there in order to sample it all. The craic is mightly in Dublin, so if you're thinking of going there, then you'll have lasting memories of an epic trip!
Interesting Things to Do and See in Dublin