Morocco is perhaps one of the most romantically exotic places that can be easily visited from Europe. Ferries from southern Spain, flights from Paris, and Mediterranean cruises departing from Italy and Greece all allow easy access to this North African paradise. Entering the country, with its unique blend of Middle Eastern, African, and European culture, can be a little bit overwhelming. Nowhere is this truer than in Marrakesh, one of the country's premiere destinations. Here is a handy guide on the top things to see in the Red City.
Start with Jemaa el-Fna, the busiest square in Africa. Located in the center of the old city, this busy and colorful courtyard is full of merchants, snake charmers, dancers, storytellers, and magicians. The romance of the city is particularly well-captured in this whirlwind of activity. As the day progresses, more and more food vendors arrive, allowing for endless opportunities in sampling Moroccan cuisine. The surrounding maze of streets is also delightful to explore, and getting lost among them is a great way to spend a few hours. The market here is a nice place to wander as well, though you can definitely get better prices in other places of the city.

On that subject, it is impossible to not visit some of the many souks. Marrakesh is famous a city of commerce, and the peddlers selling their crafts in markets large and small. These are often organized by the types of goods provided, resulting in an Ironworkers Souk, a Carpet Souk, a Dyer's Souk, and so on. If you're willing to take the time to explore, you'll find excellent handicrafts, textiles, metalwork, and other exciting purchases. As you might expect, quoted prices will be significantly higher than the value of the goods—don't be afraid to bargain hard with the merchants here, who have become used to foreign tourists that pay more than necessary. Remain friendly though, and don't be afraid to walk away rather than engage in a confrontational haggling match.
If the heat and noise of the city are wearing on you, find solace in the Jardin Majorelle. Located just next to the magnificent Koutoubia Mosque (which has a minaret that reaches 77 meters into the air), the garden is a tropical sanctuary that was once owned by Yves Saint Lourent. Nothing is more refreshing than a picnic under the shady tropical foliage of the park, next to running water and away from the honks of taxis and shouts of tourist touts.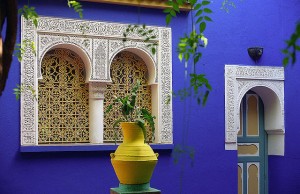 Finding deals in Marrakesh isn't difficult, as your time in the souks will soon show you. Accommodation is no different, as villas in Morocco all seem to place a high emphasis on comfort and design. Expect lots of greenery, nice courtyards, artistic touches, and good service. You'll be surprised at how far your money can go in this category, as luxury accommodation can be obtained at a very reasonable price.
Marrakesh has inspired poets and artists with its beauty, and is perfect for couples, families, backpackers, and anyone else. Traveling in this part of the world with an open mind is a joyful experience, and we hope that armed with this guide you're prepared to tackle one of the most exciting destinations around. Enjoy!



Marrakesh: An Exotic Moroccan Getaway